Australian Gold Hot Sachet X 3
---
Australian Gold Hot Sachet X 3
£14.99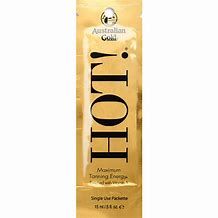 Australian Gold Hot! X3
There is a reason this is one of our best-selling tanning lotions worldwide.
Hot! uses an industry exclusive high level of concentrated Aloe Vera Gel as it's base. This high level of Aloe helps to heal, soothe and moisturise for healthy, smooth skin.
Maximum Tanning Energy® helps to enhance the skin's ability to retain moisture for longer. This in turn helps skin to promote a darker, longer-lasting colour.
Omega Oils derived from Macadamia, Kukui Seed, Olive and Tea Tree help to provide sensational skin-caring vitamins which help to condition and moisturise skin for a gorgeous glow. Plus a blend of Liposomes, Vitamins and Amino Acids combine to deliver moisture to the skin for deeper, darker colour and a bronzed radiance.
Fragrance: Classic Cocoa Dreams
Size: 15ml
Top tip: Hot! is full of antioxidants, Vitamins A, C and E making it an exceptional, skin-caring moisturiser you can use as a daily Tan Extender as well.